Alessio Cantarella ✉️ is an Italian engineer with 15+ years of experience in software development and project management.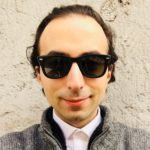 • Experience
• Education
• Certifications
• Projects
• Courses
• Recommendations
• Exams
• Marks
• Assessments
Biography
Born in Catania on April 11th, 1985 from Pietro (69 years old, engineer) and Vittoria (62, teacher); he has a brother: Danilo (33, economist).
Ever since he was a boy, is enthusiast about computer science, arts (literature, music, movies and TV series), travels and foreign languages (he speaks English, Spanish, French and German; he studied modern Greek, Japanese, Arabic and Russian).
In 2001 he realises the websites for the high school "Giovanni Verga" of Adrano (Sicily) and the mayor Fabio Mancuso, moreover he publishes his blog (with the original purpose of sharing photos with friends).
In 2002 he starts a fruitful collaboration with Manlio Sgalambro, for whom he designs and manages the website and the accounts on Facebook and Instagram.
In July 2003 he obtains the diploma of scientific maturity from the above-mentioned high school "Giovanni Verga".
On October 29th, 2006 he takes part in the shooting of the movie Niente è come sembra (Bompiani, 2007) by Franco Battiato, with Sonia Bergamasco, Giulio Brogi, Chiara Conti, Alejandro Jodorowsky, Pamela Villoresi, etc.
In May 2007 he mounts the video Le ragioni della fede le fedi della ragione for the homonymous conference, held on 26th in Biancavilla (Sicily); from October 2007 to January 2008 he works at the Department of Computer Engineering and Telecommunications (DIIT) of the University of Catania, where on January 17th he graduates with a Bachelor's degree in Computer Engineering (with a thesis about Un modello economico per la gestione delle risorse in una rete CDG); in January he organises two conferences with Manlio Sgalambro: on 5th (Problemi del presente visti da un filosofo) in Palazzolo Acreide (Sicily) and on 31st (Ccamaffari?) in Syracuse; in the following months (from April to August) he develops a documentary software for the company AC2 in Zafferana Etnea (Sicily), and starts a freelancer activity, during which he implements various websites and applications: B&B Li Cuti, Tielle Diagnostyc, Serteca, Studio Medico XX Settembre, B&B Villa Giada, etc.; on May 12th, he is interviewed on the Star News TV news in the studios of Video Star, to remember his grandfather Salvatore, who forty years before gave hospitality to the victims of the Belice earthquake in Biancavilla (Sicily), a small town where he was the mayor.
In 2009 he participates in various events in Catania: on January, 2nd in the concert Lilies on Mars, on February 26th in the conference Riflessioni sull'albergare, on February 27th in the concert Catania Burn Festival, on November 20th in the concert Mab.
In January 2010 he presents the book Villa regnante (Enrico Folci Editore, 2009) by Salvatore Massimo Fazio in Catania and Adrano (Sicily); on December 23rd in Biancavilla (Sicily) he takes part in the presentation of the book Giuseppe Coco (Biblioteca Comunale "Gerardo Sangiorgio", 2010) curated by Placido Sangiorgio.
From February to July 2011 he works at the Department of Electrical, Electronic and Computer Engineering (DIEEI) of the University of Catania, where on July 20th he graduates with a Master's degree in Computer Engineering, defending the thesis Un framework per la simulazione di modelli ad agenti mobili; at the end of November he moves to Milan, where he starts to work as a Consultant at Reply, following several projects for customers in the banking (Intesa Sanpaolo) and insurance (Intesa Vita, Eurizon Vita, Intesa Sanpaolo Vita, Intesa Sanpaolo Assicura, Eurizon Capital and Intesa Sanpaolo Life) fields; furthermore, he is credited in the album Illusion by Mab.
In 2012 he visits Turin; in January he gets the professional qualification as an ICT Engineer; on June 23rd in Rivoli (Piedmont) he presents the book Insonnie (CUECM, 2011) by Salvatore Massimo Fazio; from June he starts to collaborate with Equipaggio Sperimentale, participating in the realisation of various videoclips (Mal d'Africa, Temporary road, Strani giorni, etc.); in December he takes part in the 1st edition of the Intesa Sanpaolo Vita table-football tournament with Alessio Somaschini (they call the team Nord-Sud) and on 14th they rank 2nd (out of 32 participating teams).
In November 2013 he visits Monteriggioni (Tuscany); he holds a course on web applications development, organised by Business Consulting Services, for Seco Tools Italia.
In 2014 he visits Bergamo, Como, Cremona, Sori (Liguria), Düsseldorf, Dortmund, Cologne, Tortona (Piedmont), Modena, Como, Lugano, Venice, Bochum, Florence and Lecco; he advertises Direct Line with the slogan Automobilisti, quando guidate non distraetevi!, and contributes to the production of the book Caro misantropo (La Scuola di Pitagora, 2015) curated by Antonio Carulli and Francesco Iannello, with the essay Del pensare brevemente Manlio Sgalambro.
In 2015 he visits Turin, Zürich, Düsseldorf, Dortmund, Genoa, Como, Lugano and Bellinzona; he collaborates with Jessica Mertens to the translation from English to German of the app Glitch! (5,000,000+ downloads on Google Play) by Luca Grillo; on July 17th the adventure in Reply ends: in August he starts working as a Web Developer in Banca Sistema, dealing with the design, development and management of websites and applications; between October and November he collaborates with Cecilia Comparoni to her thesis, L'impossibilità di essere consolati, discussed at the University of Genoa.
In 2016 he visits Düsseldorf, Dortmund, Essen, Castellammare del Golfo (Sicily), San Vito lo Capo (Sicily), Erice (Sicily), Realmonte (Sicily) and Agrigento; he realises the websites: An.Bo. Brokeraggio Assicurativo, Matteo Montani and Taormina Opera Stars; he collaborates with Mokadom in the development of a web application; he collects unpublished material for the book Introduzione a Sgalambro (Il Nuovo Melangolo, 2017) by Antonio Carulli; between October and December he records and mounts the videos of some concerts of Fabio Cinti's Forze elastiche tour (featuring Paolo Benvegnù); furthermore, still at Banca Sistema, he takes the Data Manager role, in which he deals with the management and reporting of data for various departments of the bank.
In 2017 he visits Munich and Tenno (Trentino-Alto Adige/Südtirol); he makes responsive the websites: Archivio Franca Rame & Dario Fo and Gabriele Colangelo; on April 19th he is one of the lecturers in the conference L'esistenza di Dio, da Battiato a Sgalambro (with Antonio Carulli, Piercarlo Necchi and Riccardo Sgalambro), held in the fair of Italian publishing "Tempo di Libri" in Rho (Lombardy), to present the book Franco Battiato. La cura (Fabio D'Ambrosio Editore, 2016) by Paolo Jachia and Alice Pareyson; from June to September he works as a Premier Field Engineer at Microsoft (following projects for Intesa Sanpaolo, Cedacri, AMOS Italy, etc.), providing technical advice to "Premier" customers, to solve critical problems and maintain solutions in line with Microsoft best practices; in October he has the opportunity to start a new job adventure as the CTO (Chief Technical Officer) of Flazio in Catania.
In 2018 he visits Milan; from February to April he holds the course Flazio Web Design in the 3rd edition of Master THEM (a master's in Tourism, Hospitality & Event Management) by BeAcademy; in March he becomes an ordinary member of Generation Ypsilon and, for this association, on April 24th he holds the workshop Privacy: cosa cambia con il GDPR [Privacy: what changes with the GDPR]; on May 25th he obtains an MBA in ICT Management, at the University of Milan-Bicocca, with the project work Gestione del progetto "Flazio Artificial Design Intelligence", which describes the main management activities of Flazio ADI, a R&D project financed by Horizon 2020 and developed by Flazio in collaboration with Itesys and with the Department of Cognitive, Psychological and Pedagogical Sciences and Cultural Studies (COSPECS) of the University of Messina; in June he is appointed the DPO (Data Protection Officer) of Flazio.
In 2019 he visits Rome, Vatican City, Swieqi, Birgu, Valletta, Marsaxlokk and Saint Julian's; from January to April, he holds again the course Flazio Web Design in the 4th edition of Master THEM by BeAcademy; on April 12th he holds the speech Cosa c'è dietro Flazio during the event Catania va online (organised by Flazio in collaboration with Google, Municipality of Catania, Academy of Fine Arts of Catania, BeAcademy, SudPress and Arti Grafiche Etna), during which 97 Sicilian companies and professionals receive a website for free; to discuss this exceptional event, on April 16th he is a guest (with Eleonora Orfanò) of the 8th episode of the Business On The Radio podcast, curated by Salvo Scribano, in the studios of 97100 in Ragusa; since May he is Equity Crowdfunding Partner of Vidoser; on July 1st, 5th and 6th, with Flazio team, he takes part in the 65th edition of Taormina Film Fest; on July 7th he sings Centro di gravità permanente in the 21st edition of the "Madonna del Carmelo" palio of Santa Teresa di Riva (Sicily); he appears in the notes of the book La piccola verità (MIM Edizioni, 2019) curated by Patrizia Trovato, Antonio Carulli, Piercarlo Necchi and Manuel Pérez Correjo; from October to December he is the supervisor of the project work Internet, Flazio e il mondo digitale by Fabio Marinaro (a student at Master THEM); in October he is appointed the Privacy Policy Officer of Generazione Ypsilon.
In 2020 he visits Mdina, Rabat, Saint Julian's, Berlin, Bucharest and Frankfurt am Main; from January to April he is the lecturer of Flazio Web Design in the 5th edition of Master THEM by BeAcademy; on March 23rd he is interviewed by REI TV (Sito internet gratuito per le imprese che ne faranno richiesta) to talk about the solidarity event #restiamoconnessi (organised by Flazio in collaboration with BeAcademy, Generazione Ypsilon and SudPress), that on April 3rd gives 30 Italian companies and professionals a website for free, giving them the opportunity to sell their products and services online, to deal with the CoViD-19 emergency; on April 27th he contributes to the project Fabbricare Fiducia; on May 9th, 16th, 23rd and 30th he participates in #isocaffe, the popular format promoted by Internet Society (Italy Chapter) and conducted by Federica Giaquinta; on May 27th he is a guest of #sgushincontra, curated by Raimondo Bruschi; moreover, again in May, he contributes to a (unpublished) project by Riccardo Sgalambro; since July he is the technical manager of Flazio GraSS (Graph Semantic Search), a R&D project financed by Horizon 2020 and developed by Flazio in collaboration with Itesys and with the Department of Cognitive, Psychological and Pedagogical Sciences and Cultural Studies (COSPECS) of the University of Messina; on July 18th and 19th, with his team mates from Flazio, he participates in the 66th edition of Taormina Film Fest; on September 13th in Montalbano Elicona he presents (with Fabio Bagnasco, Enzo Ruggeri and Filippo Taranto) the book Franco Battiato (Arcana, 2020) by Fabio Zuffanti; in November he is appointed the Chief Technology Officer of Flazio; on December 14th he is interviewed by Forbes to talk about the Flazio Domains project.
In 2021 he visits Venice, Berlin, Sofia, Rila, Rome, Athens, Naples, Plovdiv, Vienna, Krakow and Kyiv; during the year he is mentioned: on January 12th in an interview with Filippo Destrieri on Rai Cultura, on February 10th in an article on StartupItalia and on April 2nd in an article on Il Sole 24 Ore; from February to April he is (for the 4th year in a row) the lecturer of Flazio Web Design in the 6th edition of Master THEM by BeAcademy; since February he's an individual member of Internet Society (Italy Chapter); on March 23rd he is interviewed in a report by Matteo Barzini about Flazio and Etna Valley, aired on the television program Agorà on Rai3; on April 10th he is guest in a course on Social Media Marketing for the master in Digital Marketing organized by Edgemony in Palermo; on April 15th he is interviewed on EconomyUp; on April 17th he gives the lesson Basi della Cybersecurity [Cybersecurity Basics] as part of the course Internet per tutti, a scuola con Internet Society (Italy Chapter) [Internet for everyone, at school with Internet Society (Italy Chapter)]; on April 23rd he is interviewed on Tom's Hardware; on May 20th, following the death of Franco Battiato, he writes a memoir on Corriere Etneo; on September September 11th and 12th in Montalbano Elicona (Sicily) he is one of the guests of the event Tra cento miliardi di stelle [Among one hundred billion stars], dedicated to Franco Battiato, during which he presents to the public his documentary Tra cento miliardi di ricordi [Among one hundred billion memories], with the unpublished contributes by Alessandro Russo, Alfio Cosentino, Alfio Zappalà, Antonio Belfiore, Armando Rotoletti, Arturo Stalteri, Carlo Guaitoli, Chiara Conti, Cinzia Fontana, Domenico Trischitta, Elvira Seminara, Fabio Cinti, Fabio Zuffanti, Federico Fresta, Filippo Taranto, Fiorella Nozzetti, Francesco Iannello, Gianluca Gill, Gianluca Magi, Gianna Tarantino, Giordano Casiraghi, Giorgio Cerquetti, Giovanni Caccamo, Giuliano Allegri, Giuseppe Di Fini, Giuseppe La Spada, Giuseppe Pollicelli, Grazia Cernuto, Graziana Di Biase, Guido Guidi Guerrera, Juri Camisasca, Karim Alishahi, the Lilies On Mars (Lisa Masia and Marina Cristofalo), Loris Pilotto, Luca Farruggio, Luigi Turinese, the Mab (Alice Dionis and Jessica Dionis), Marco Rapelli (from Equipaggio Sperimentale), Marianne Gubri, Mario Tani, Nabil Bey (from Radiodervish), Paolo Puglia, Placido Antonio Sangiorgio, Riccardo Sgalambro, Roberto Fai, Sabah Benziadi, Stefano Pio, Tea Falco, Thea Crudi, Umberto Broccoli, the van de Kerkhof (Giuseppe Piccinno and Antonio La Monica), Vincenzo Zitello and Vita Catalano; on September 29th in Rome, at the Senate of the Republic, he is among the speakers of the conference Gli universi paralleli di Franco Battiato [Franco Battiato's parallel universes], with the participation by Alberto Samonà, Alfio Cosentino, Enzo Bianco, Fabio Bagnasco, Federico Mollicone, Fiorella Nozzetti, Giuseppe Pollicelli, Graziana Di Biase, Guido Guidi Guerrera, Lucia Sardo, Maurizio Cafiero and Stefano Pio, and the moderation by Giuseppe Pollicelli.
In 2022 he visits Palermo, Sofia, Paris, Vienna, Budapest, Prague, Bratislava, Marseille, Vicenza, London, Malta, Abu Dhabi, Dubai, Rome, Marrakesh, Tallinn, Helsinki, Riga, Vilnius, Užupis, Mykonos, Istanbul, Tirana, Durrës, Milan, Katowice, Tel Aviv, Haifa, Jerusalem, Muscat, Rustaq, Al Hamz, Tiwi and Wadi Bani Khalid; in March he is mentioned in the book Franco Battiato. L'uomo dell'isola dei giardini [Franco Battiato. The man of the island of gardens] (Minerva, 2022) by Guido Guidi Guerrera, which he will present on May 18th in Milo (Sicily) and on November 27th in Catania; in April he is mentioned in the book Battiato. Incontri [Battiato. Meetings] (Officina di Hank, 2022) by Giordano Casiraghi; in May in Milo (Sicily) he participates in the Note di passaggio event, dedicated to Franco Battiato, to celebrate the anniversary of his death: on the 20th presents to the public Tra cento miliardi di ricordi 2 [Among one hundred billion memories 2], the new version of his documentary about Battiato, enriched by the unpublished contributions by Alessandro Cecchi Paone, Carla Spessato, Daniela Sassi, Danilo Armani, Federico Petrucci, Filippo Destrieri, Flavio Fazio, Giulia Lamberti, Giuseppe Delia, Grazia Velvet, Jack Sarfatti, the Quartetto Rondò (Eleonora Urzì, Francesca Gugliotta, Francesco Musumeci and Marianna Musumeci), Roberto Russo, Sandro Vergato, Süleyman Erguner, the Supernova (Alessandro Rapisarda, Ivan Sammartino, Marco, Riccardo Campo and Turi Platania), Syusy Blady, Tito Rinesi and the Ensemble Dargah (Fabio Resta, Piero Grassini and Flavio Spotti); on July 23th in Aci Castello (Sicily) he presents the book Il ciondolo di Empedocle [The Empedocles' pendant] by Massimo Rapisarda; on November 16th he takes part in the IAB Forum in Milan.
In 2023 he visits Palermo, Berlin, Vienna, Bratislava and Seville.