University of Milan-Bicocca
Master of Business Administration (MBA) in Information and Communication Technology (ICT) Management (approved)
(Milan, January 2016-May 2017)
• Institution: Università degli Studi di Milano-Bicocca – Milan.
• Project work: Project Management of "Flazio Artificial Design Intelligence".
• Subjects: Budget Reporting and Business Plan, Business Process Management, Change Management, Cloud Computing, Cyber Law, Cybersecurity, Data Analytics, English for Project Presentation, Enterprise Social Network, ICT Governance, Internet of Things: A complex surveillance system, Knowledge Management, Networking Services, Presentation and Communication Techniques, Project Management, Quality Management, Risk Management, RoI and IT Investments, Social Marketing, Strategic Management, Team Building and Team Management.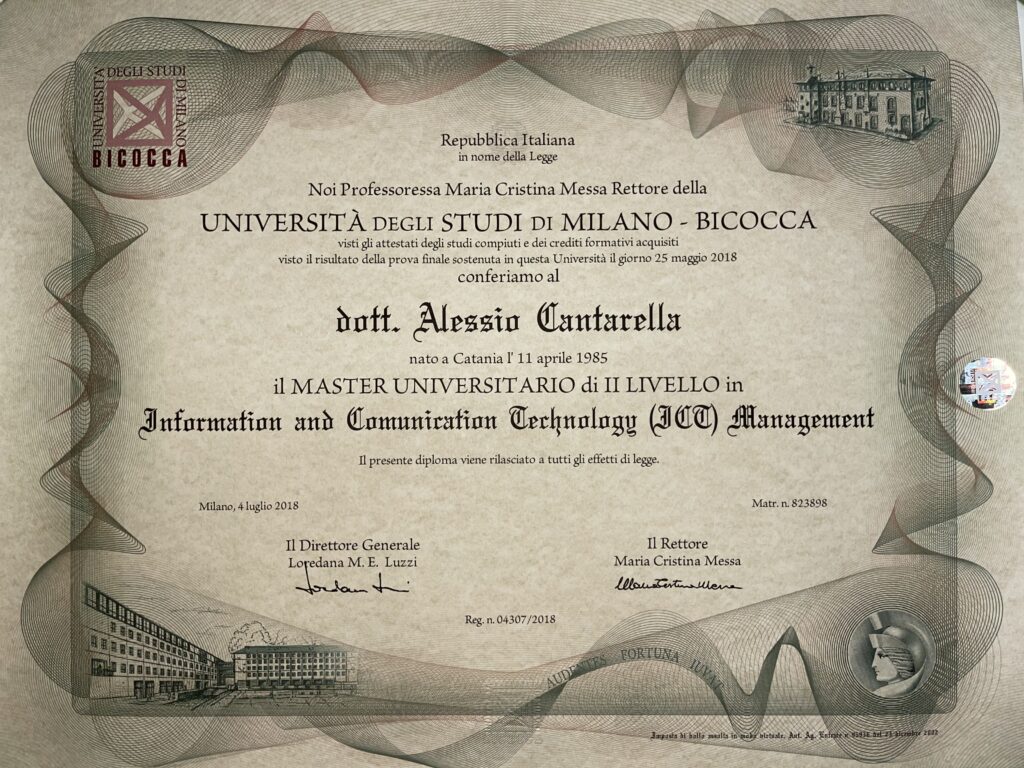 University of Catania
Professional Qualification in Information Engineering (172/200)
(Catania, November 2011-January 2012)
• Institution: Università degli Studi di Catania – Catania.
• Subjects: Automation Engineering, Computer Engineering, Electronic Engineering, Telecommunications Engineering.
Master's Degree in Computer Engineering (107/110)
(Catania, October 2008-July 2011)
• Institution: Università degli Studi di Catania – Catania.
• Thesis: A Framework to Simulate Mobile Agent Models.
• Technologies: .NET, C, C#, C++, CSS, HTML, Java, JavaScript, jQuery, PHP, Python, SQL.
• Subjects: Advanced Programming Techniques, Artificial Intelligence, Coding Theory, Cognitive Systems and Human-Computer Interaction, Compilers and Interpreters Project, Control Optimisation Techniques, Distributed Systems Project, Hardware-Software Design Methodologies, Image Processing Circuits and Algorithms, Industrial Computer Science, Information Systems Security, Mobile Multimedia Embedded Systems, Networks Analysis and Dimensioning Methods, Process Control Networks, Random Phenomena Theory, Real-Time Systems, Software Engineering 2, Spanish Language.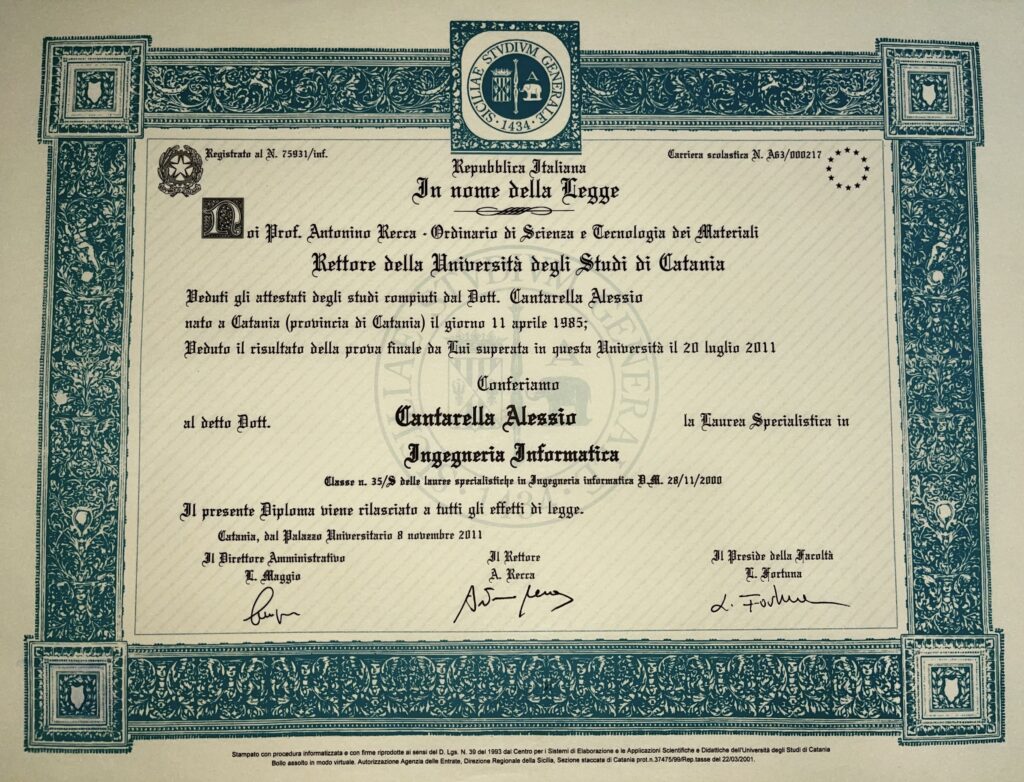 Bachelor's Degree in Computer Engineering (103/110)
(Catania, October 2003-January 2008)
• Institution: Università degli Studi di Catania – Catania.
• Thesis: An Economical Model to Manage Resources in a CDG Network.
• Technologies: C, CSS, HTML, Java, JavaScript, PHP, Python, SQL.
• Subjects: Automation Engineering Elements, Chemistry, Computer Networks, Computer Science Fundamentals and Laboratory, Databases, Economy and Corporate Culture, Electronic Computers, Electronic Computers Laboratory, Electronic Measurements and Laboratory, Electronics, Electrotechnics, English Language, Experimental Physics 1, Experimental Physics 2, Information Systems, Linear Algebra and Geometry, Mathematical Analysis 1, Mathematical Analysis 2, Mathematical Analysis 3, Operating Systems, Programming Languages, Software Engineering 1, Technical Physics, Telecommunications Fundamentals.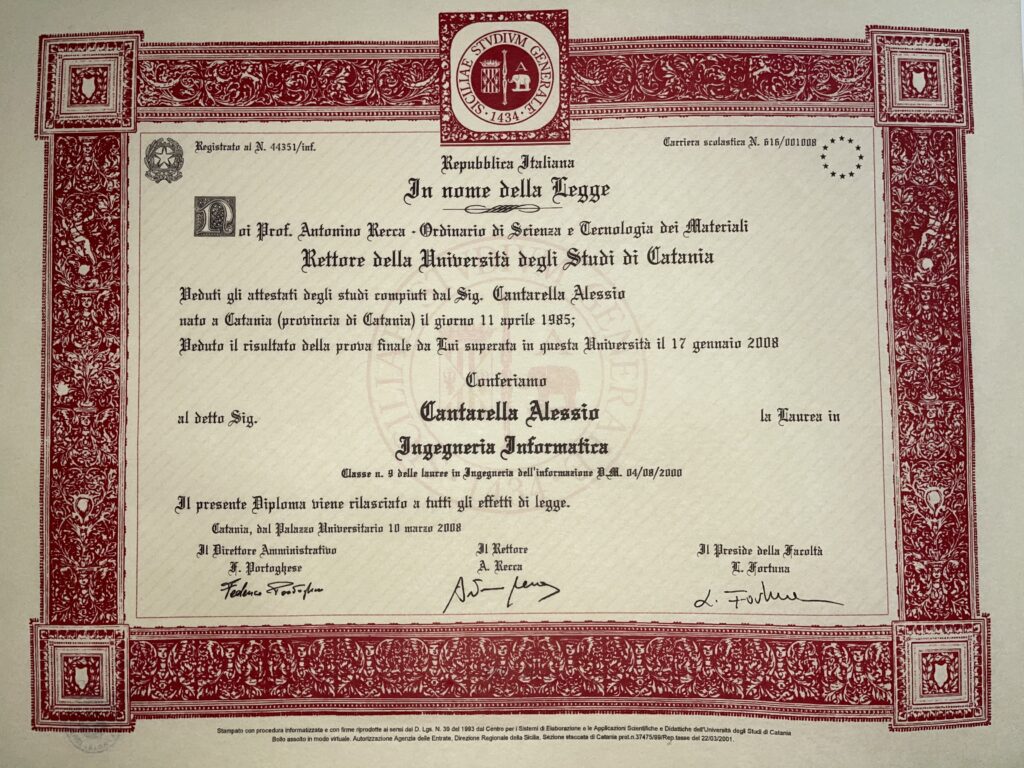 Liceo Ginnasio Statale "Giovanni Verga"
Scientific High School Diploma (100/100)
(Adrano (Sicily), September 1998-July 2003)
• Institution: Liceo Ginnasio Statale "Giovanni Verga" (scientific section) – Adrano (Sicily).
• Technologies: CSS, HTML, JavaScript, Turbo Pascal.
• Subjects: Biology and Laboratory, Chemistry and Laboratory, Computer Science and Automatic Systems, Earth Science, English Language and Literature, Geography, History, Italian Language and Literature, Law and Economics, Mathematics, Philosophy, Physical Education, Physics and Laboratory, Technology and Design.